Hey All,

So I am going to host my own set of awards!

This thought came out of nowhere. I mean, it wasn't really planned. I wanted to host one as unique as my blogs but was never sure what the award would be called.
So if you've already followed by blog, you must be knowing that I'm now the 'GIF & Meme Queen!' Hahaha….

In the process of becoming a Queen, I lost one follower.😥

So before I lose anymore people, what I meant is, I am not just a Blogger anymore but also a 'Queen of Memes & GIF.' My journey, just as a Blogger has come to an end.

But…..

My journey as a 'Blogger' as well as 'The GIF & Meme Queen' would continue!
Is nobody going to celebrate my coronation ceremony with me???😢😢 People are still confused with the post!😞😔

So here's how the birth of this award took place:

Read these two post Thank You For All The Love, Goodbye! and then, My Final Post As A Blogger

There were only two lovely souls who understood what I meant. You need to read their comments to know what I'm talking about and so they both get: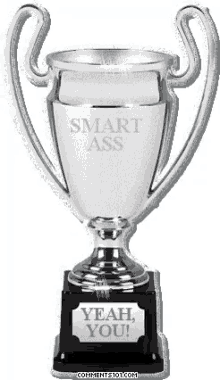 The Smart Ass Award!
And the award goes to…….
There are no rules as such for this award
– Use the featured GIF as your award
– Tag the creator of this award i.e. ME or use the link for my blog
– Let your readers know what got you this award
– Share anything else that you wish to share

There are no nominations for this as this is a special award.

I hope you both will accept this as soon as you can coz we haven't celebrated the crowning yet!☹️☹️

I Love You All,
The Bold Girl 💋
---
Ayeee… Hold on!

Well, there are three more who won the award!
I hope you guys accept this prestigious, one in a lifetime award soon coz 'The Queen' has no patience!🙄
Edited on 11th June